How Toledo, Ohio's Commercial Real Estate Market is Bouncing Back
It's hard to believe that Toledo's commercial real estate market could get much better than reported at the end of 2020 or at mid-year 2021, but it certainly has. As areas across the U.S. slowly make a recovery post-pandemic, the demand for industrial, apartment, office, and retail space in the greater Toledo, Ohio area continues to exceed expectations. If you are a seller of commercial property, you're in luck. If you're a buyer or renter, finding vacancies may become a challenge if new construction cannot keep up with demand. Here is an in-depth look at the real estate market in the greater Toledo, Ohio area thanks to the 2021 year-end marketview reports from Reichle Klein.
Industrial
If you are a landlord, an owner, or don't happen to need any industrial property in greater Toledo, the market keeps getting better and better. If you need space or a tenant with a lease expiring, this market is a challenge and is only getting more challenging. It features very few space/building options, drastically increasing rents and long wait times for new space to be delivered.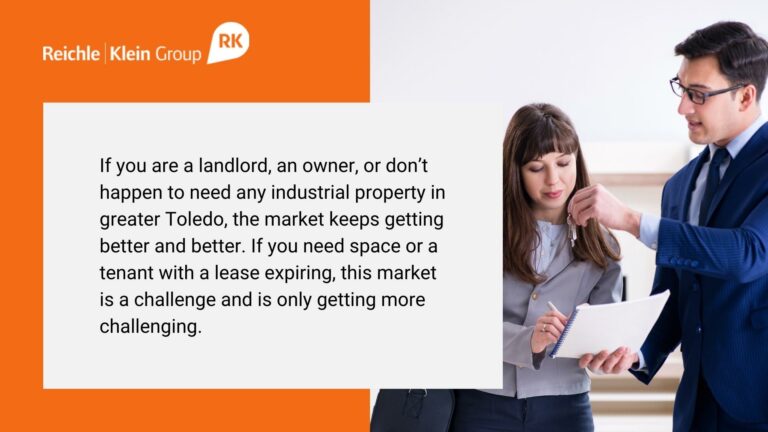 The difficulties for users start with availabilities. The Reichle Klein Group's year end 2021 survey of the industrial space market found the market tightening further as overall market vacancy fell to 3.05% while the market absorbed a further 819,868 square feet of space in the second half of 2021 after having absorbed 802,274 square feet in the first half of the year. Vacancy among Class A buildings, which is where the greatest demand is occurring, fell to .73%. With few spec buildings being built, for many users that can't simply wait, build-to-suit new construction is the only alternative. There are virtually no small space options available, we have rising rental rates to show for it.
Demand from automotive users (historically Toledo's commercial real estate prime market driver) and a growing sector of non-automotive users has led to another big spike in new construction in the second half of 2021, nearly all of it build-to-suit. The year end survey captured 3,341,000 square feet under construction in the immediate Toledo area.

Nearby Businesses
Following the surge in COVID cases due to evolving strains of the virus, there is this general sense of waiting for the other shoe to drop among Toledo office specialists. Looming significant new vacancies of over 300,000 square feet in 2022 suggests future struggles for the market year. Given the dynamics of the office-using segment of the Toledo economy and the post-COVID environment, it's hard to see where the demand needed to backfill that vacancy is going to come from.

In the face of the oversupply of space, any landlord that might be inclined to offer lower rent to attract tenants is constrained by rapidly rising operating expenses, particularly utilities and janitorial expenses. Additionally, the cost of making tenant improvements is up drastically and continuing to rise.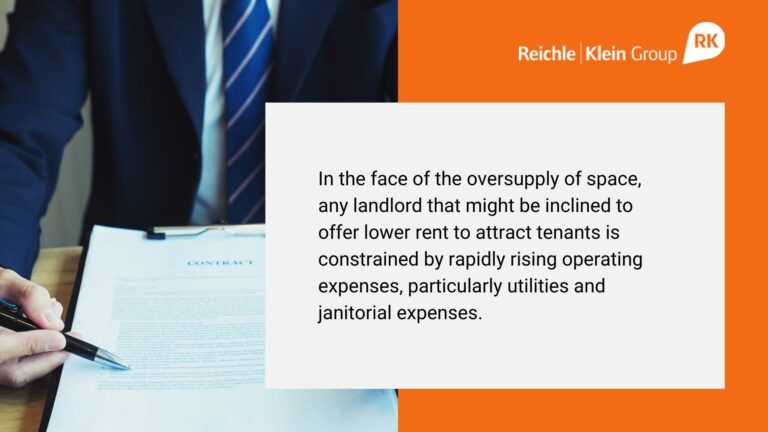 The real bright spot, and certainly the most surprising phenomenon of the pandemic era to date, has been the hot market for office buildings for sale. The pace of sales of smaller single-user and multi-user buildings purchased by buyers intending to occupy all or a part of the building continued at a torrid rate through the end of 2021.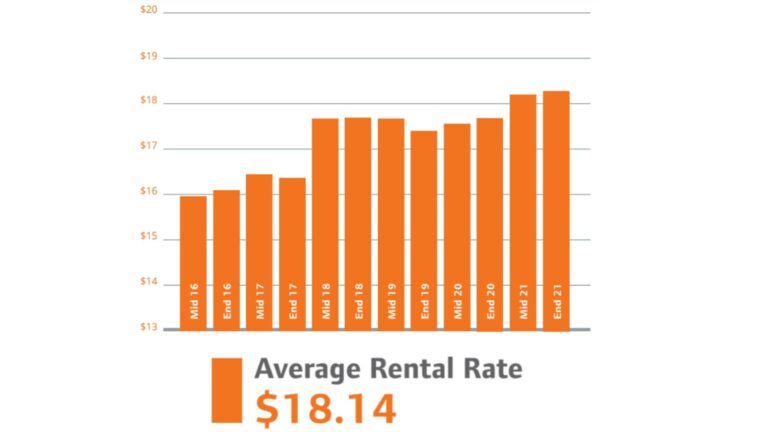 Apartment
Apartment rents continue to climb at a remarkable pace with the average asking rental rate sitting at $898 at year-end, having grown 6 percent over the second half of 2021 and 12.25 percent from year-end 2020. Since the end of 2019 and encompassing the pandemic era to date, the average asking rental rate has grown $162 per month or over 22%. Over the same period, the overall market vacancy rate has declined from 6% in December 2019 to standing at 2.7% in December 2021. Based solely on the increased occupancy and the higher rental rates, the average apartment property in the Toledo area has appreciated over 26% in the past two years.
Despite this, new construction activity is at its lowest level since the end of 2018. The velocity of sales of market-rate apartment properties over 20 units in 2021 jumped 400% from 2020 as significantly more properties were brought to market during the year. Still, demand for apartment properties from investors far outstrips available offerings.

Retail
Leasing activity picked up nicely in the second half of 2021. As has become the norm, most of the activity is occurring among in-line spaces and smaller strip centers, and much of it for service uses and restaurants. However, there were a few welcome transactions with traditional retailers for anchor spaces.
A factor in the market's improving metrics is the ongoing repurposing or redevelopment of marginal centers/locations or physical obsolescent spaces in strong locations. As a result, the total square footage devoted to "retail" continues to shrink. In the second half of 2021, total market square footage declined by 224,233 square feet and stands at 20,827,586.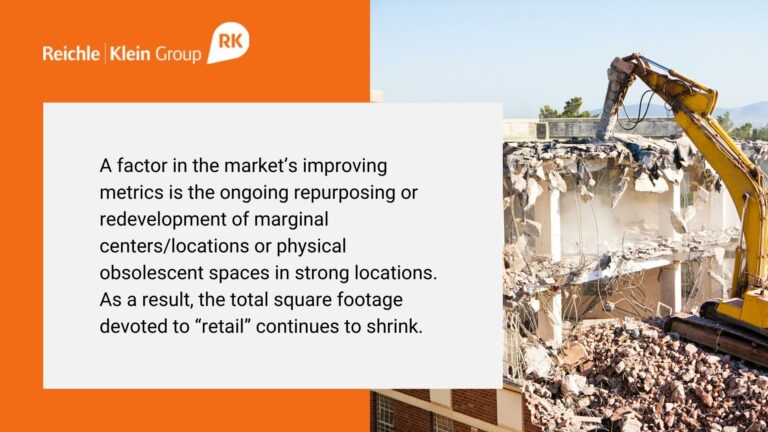 Meanwhile, the form of most infill development or redevelopment has taken on some common elements. Much of it is made up of smaller strip structures. On larger sites that may once have been home to larger-format traditional centers with an anchor or two combined with smaller in-line spaces, today developers are building multiple smaller buildings providing spaces scaled to target users most active in the market currently, such as restaurants. In any event, the pace of new construction picked up in the second half of 2021 and 141,020 square feet is under construction at year-end.
Accessibility also needs to be considered beyond current business needs but also entering new markets and drawing new skilled talent.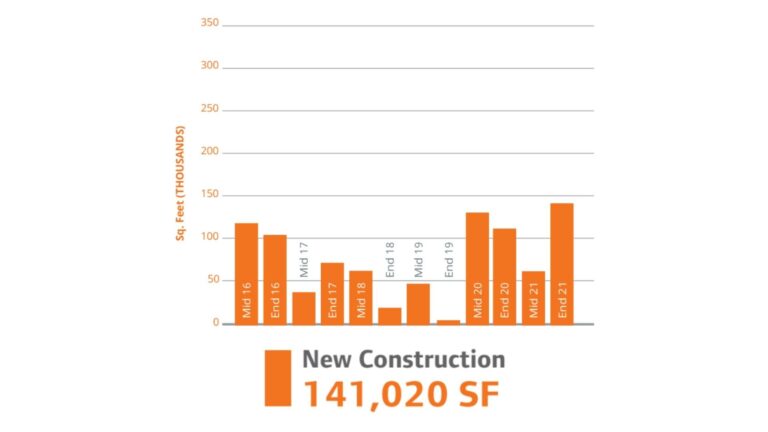 Toledo's commercial real estate market continues to surprise us with its resiliency and ceaseless growth. As we look back on 2021, we anticipate that Toledo's 2022 commercial real estate market will keep true to its slogan, "You will do better in Toledo."