Market View | Toledo Retail – Overview
Hot Topics:
What You Need To Know
Vacancy is down 105 basis points since year-end 2020 to 10.45%.

Leasing activity is up – 207,000 square feet was absorbed in 2021.

Several anchor-scale lease transactions with traditional retailers were completed.

Strip center development activity is up and Perrysburg is a hotspot for these developments.
Overview
The Toledo, Ohio area retail space market put in a surprisingly strong performance in 2021 despite the lingering pandemic. The Reichle Klein Group end-year 2021 retail space market survey found the region continuing the solid performance recorded in the first six months of the year. Led by the Perrysburg/Rossford submarket, overall market vacancy declined to 10.45% from 11.5% at yearend 2020. The overall market absorbed 121,576 square feet of space in the second half of 2021 on top of the 85,497 square feet absorbed in the first half of the year. Occupancy gains were made both among in-line spaces and anchor spaces. Asking rents also improved with increases in the average asking rates for both in-line and anchor space.

Interested in learning more?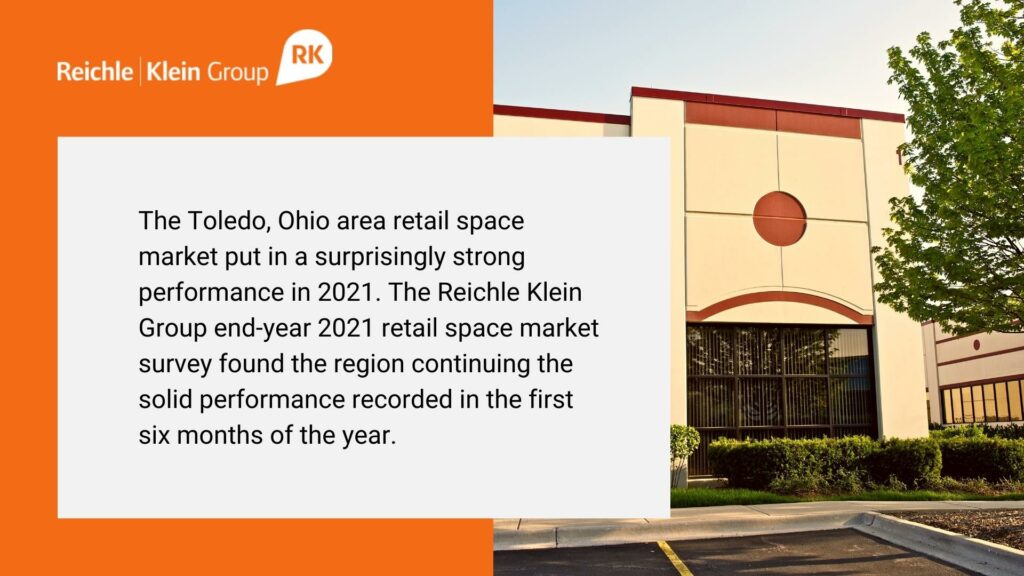 A factor in the market's improving metrics is the ongoing repurposing or redevelopment of marginal centers/locations or physical obsolescent spaces in strong locations. As a result, the total square footage devoted to "retail" continues to shrink. In the second half of 2021, total market square footage declined 224,233 square feet and stands at 20,827,586.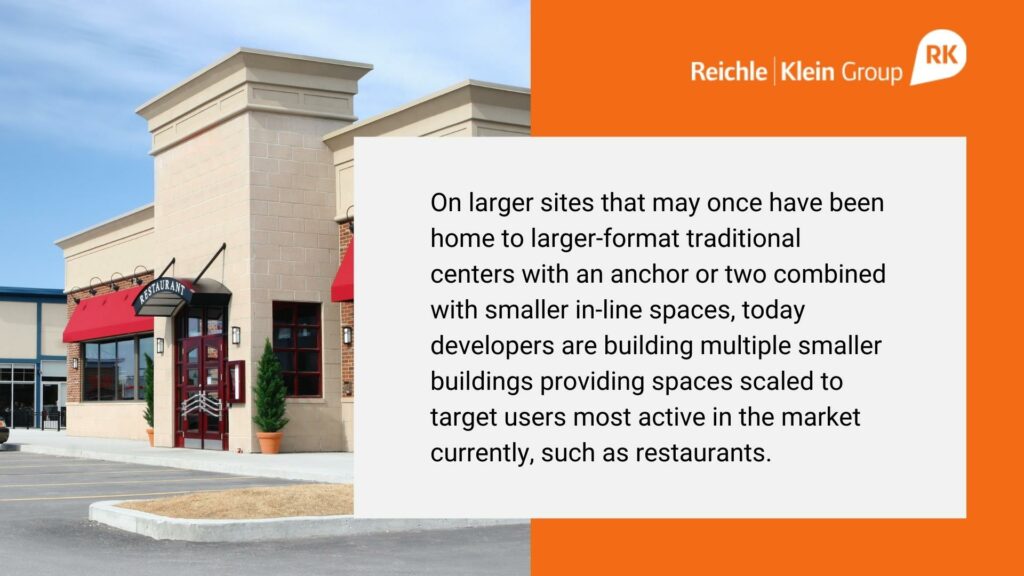 Meanwhile, the form of most infill development or redevelopment has taken on some common elements. Much of it is made up of smaller strip structures. On larger sites that may once have been home to larger-format traditional centers with an anchor or two combined with smaller in-line spaces, today developers are building multiple smaller buildings providing spaces scaled to target users most active in the market currently, such as restaurants. Prime examples of this type of development are the former Anderson's site at Monroe and Talmadge in West Toledo and redevelopment of the former French Quarter Hotel site in Perrysburg. There are even examples of small infill sites on which two smaller buildings are built rather than one larger strip building that would typically have been built, the better to accommodate multiple drive-throughs and create more higher value endcap spaces. In any event, the pace of new construction picked up in the second half of 2021 and 141,020 square feet is under construction at year-end.
We don't typically address the market for retail investment property sales in these reports, but we thought it worth noting that there is strong demand for retail investment property. Any centers or single tenant net leased properties taken to market are receiving a high level of interest from qualified buyers and trading cap rates are reaching new lows.
Interested in learning more?