Market View | Toledo Industrial – Overview
Hot Topics
Vacancy continues to decline as demand grows.

The market continues to favor owners and challenge those looking for space.

The market absorbed a further 819,868 square feet of space in the second half of 2021.

Demand continues to encourage new construction – primarily build-to-suit.

NorthPoint Development to acquire and develop former North Towne Mall site – adding over 800K SF industrial space.
Overview
It's hard to believe that the Toledo, Ohio area industrial space market could get much better than reported at the end of 2020 or at mid-year 2021, but it has – if you are a landlord, an owner, or don't happen to need any space. For these players, the market just keeps getting better and better. If you are a user and need space or a tenant with a lease expiring, this market is a challenge and is only getting more challenging. It features very few space/building options, drastically increasing rents, and long wait times for new space to be delivered.

Interested in learning more?
The difficulties for users start with availability. The Reichle Klein Group's year-end 2021 survey of the industrial space market found the market tightening further as overall market vacancy fell to 3.05% while the market absorbed a further 819,868 square feet of space in the second half of 2021 after having absorbed 802,274 square feet in the first half of the year. Vacancy among Class A buildings, which is where the greatest demand is occurring, fell to .73%. With few spec buildings being built, for many users that can't simply wait, build-to-suit new construction is the only alternative. There are virtually no small space options available.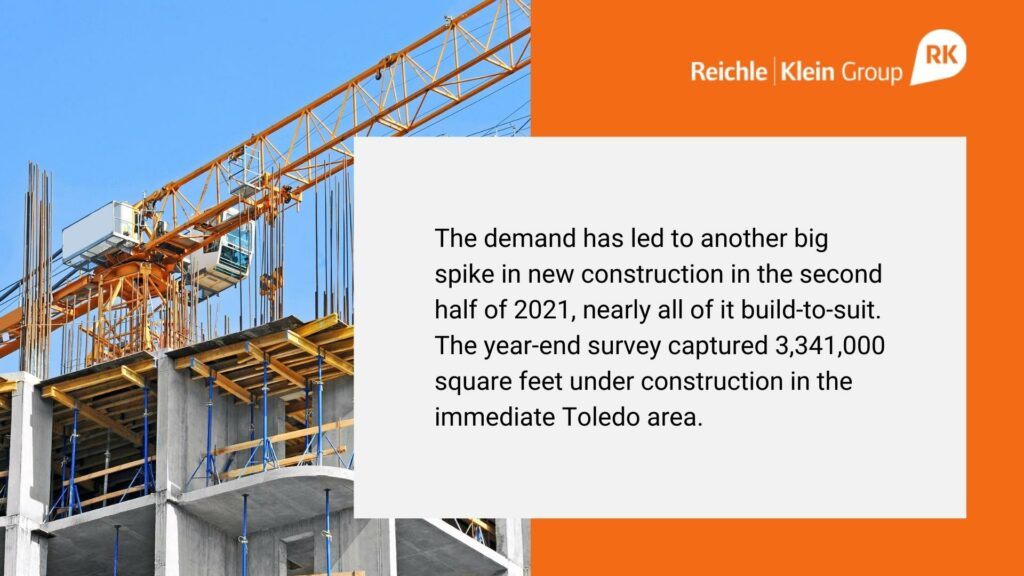 Rental rates are where the pain for users is getting sharp. The average asking rental rate for the overall market continues to rise, reaching $3.96 per square foot, net, in December 2021. However, among Class A buildings the average asking rate stands at $6.80 per square foot at year-end, up from $5.28 at mid-year and $5.24 at the end of 2020. The $6.80 rate represents the average asking rate for existing space and doesn't reflect the rates required to support new construction or build-to-suit options. Transactions for new construction are occurring at much higher rates of $7 and higher. Further, developers tell us that rates for buildings started today could be as much as 25-35% higher by the time the buildings are delivered due to escalating construction costs. 
Activity with users in the market for space remains very high. Most of the new demand is from non-automotive users, sustaining a trend that has emerged over the past decade. This is not to suggest that the auto industry isn't still a big factor in the Toledo market, merely that its historically outsized role as the prime market driver in the Toledo region is diminishing because of the growing demand from other sectors, which is a good thing. The Toledo area is clearly benefiting from the growing onshoring/build it here mindset for which its longstanding prowess in manufacturing is a strength. The area is also benefiting from the rapid changes taking place in distribution and supply chain management because of its location, transportation assets, and access to population centers and markets.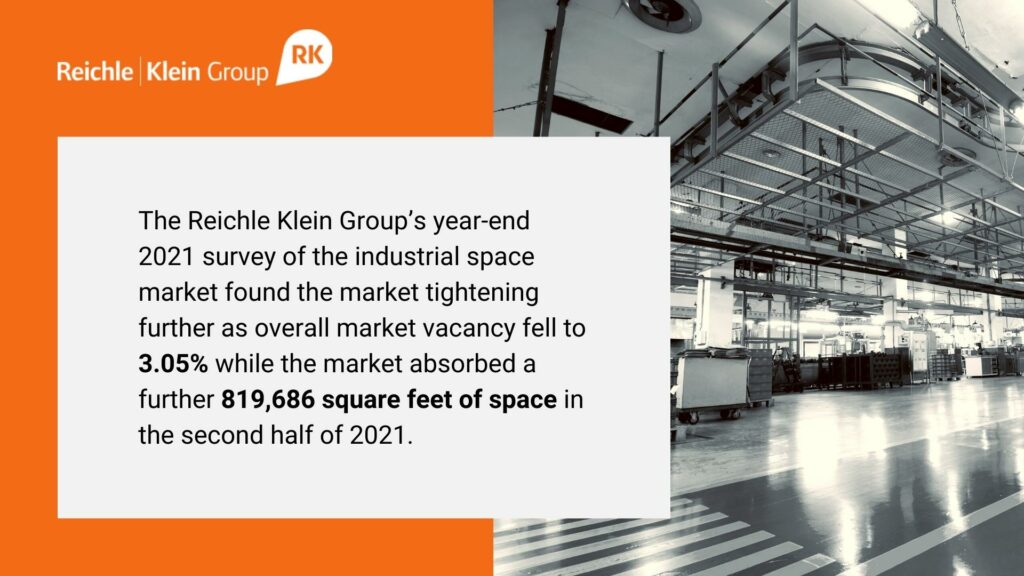 The demand has led to another big spike in new construction in the second half of 2021, nearly all of it build-to-suit. The year-end survey captured 3,341,000 square feet under construction in the immediate Toledo area. Two projects, the Peloton manufacturing facility, and yet another manufacturing plant for First Solar, comprise most of that total. Fortunately, the activity in the market has attracted several very capable developers from outside the market that have taken control of significant sites where they propose to develop new industrial parks. The latest of these is NorthPoint Development which in the fourth quarter of 2021 announced its plans to acquire and redevelop the former North Towne Mall site in North Toledo with over 800,000 square feet of new industrial space.
Interested in learning more?