Should You Move Your Business to Toledo, Ohio? Absolutely, Here's Why!
Toledo, Ohio is booming and there's tons of opportunity here if you're looking to relocate, open up a new business, or invest in commercial real estate. With its central location, excellent infrastructure, and thriving business community, Toledo has something to offer businesses of all sizes and industries. 
In fact, Toledo, Ohio has been experiencing a renaissance. Over a billion dollars have been spent in the last five years in revitalization and building projects with another billion expected to be spent in the next five years. Just one example is the Renaissance Hotel, which recently spent $40,000,000 on a make-over! When investing in property or opening a branch here, one can be confident that the expenditure will be a wise one.
Toledo is a diverse and vibrant city with a lot to offer in terms of culture, entertainment, and business opportunities. From world-class museums and art galleries to a lively nightlife and dining scene, there's something for everyone in Toledo. The city is also home to a number of large businesses and corporations, making it a great place to live and work.
In addition to city history, culture, and lifestyle, we'll cover some of the prime reasons that Toledo, Ohio is ideal for businesses. Read on to discover some of the top reasons to relocate to Toledo.
The Glass City
Toledo has a rich history, both past and recent. Mayors traditionally have given a glass "Key to the City" to honor dignitaries and famous residents. Crystal Bowersox received one when she reached the finals of American Idol in 2010. The latest recipient was ProMedica, a massive network of hospitals headquartered in Toledo, in recognition of their work during the COVID-19 pandemic. 
Although you may think Toledo is called The Glass City because of its ties to the automotive industry, it all started in the 19th century, long before the automobile took over the world. Toledo became a prime location for manufacturing companies to put down their roots due to many factors including a recently discovered natural gas deposit. Glass manufacturing requires lots of energy and this fuel source was a natural fit.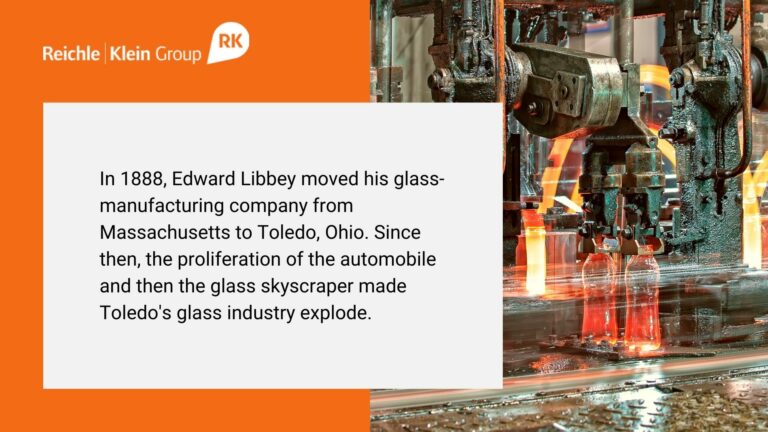 In 1888, Edward Libbey moved his glass-manufacturing company from Massachusetts to Toledo, Ohio. The Libbey Glass Company produced bottles, containers, window glass, and, famously, cut glass. In 1898, Edward Ford formed the Edward Ford Plate Glass Co. in nearby Rossford, Ohio, and built the largest plate-glass plant in America. Soon after, another giant in the industry, British based Pilkington, began operations in the area. The proliferation of the automobile and then the glass skyscraper made Toledo's glass industry explode. 
The Great Depression and then competition from over-seas manufacturing has scaled back the industry from its heyday. However, there are still several thousand jobs directly related to glass manufacturing in Toledo and its environs.
One Toledo-area company produces more than one-million square feet of flat glass per day. Another, the Libbey Glass Company, is the United States' largest manufacturer of glass dinnerware. Their factory outlet shop at 205 S Erie St is like a museum where all the art is for sale. The displays in this warehouse range from useful everyday pieces to extraordinary works of art.
Art and Culture
Whatever your artistic and musical interests may be, Toledo, Ohio has something to offer. A quick glance at Concerts50.com currently lists sixteen major concerts scheduled for Toledo Ohio. There, one can find music events of all genres: country, rock, jazz, etc. These concerts happen at ten different venues around the area and include acts like John Waite, ZZ Top, The Doobie Brothers, Matchbox Twenty, and the Goo Goo Dolls, among others.
One of these venues, The Huntington Center in downtown Toledo, is also home to the Toledo Walleye hockey team. This 266,000 sq. ft state-of-the-art facility has 8,000 seats and has been named the top multipurpose arena in the Midwest by industry magazine 'Venues Today'.
A somewhat cozier venue, The Valentine Theater, seats 901 and had the largest stage in the country when it opened in 1895. The art deco/Victorian style theater recently received a $28 million renovation and has been added to the National Register of Historic Places. Besides hosting live-music concerts, plays, and children's events, the Valentine is home to the Toledo Symphony Orchestra, the Toledo Opera, the Toledo Ballet, the Toledo Jazz Orchestra, the Toledo Masterworks Chorale, and the Toledo Repertory Theatre.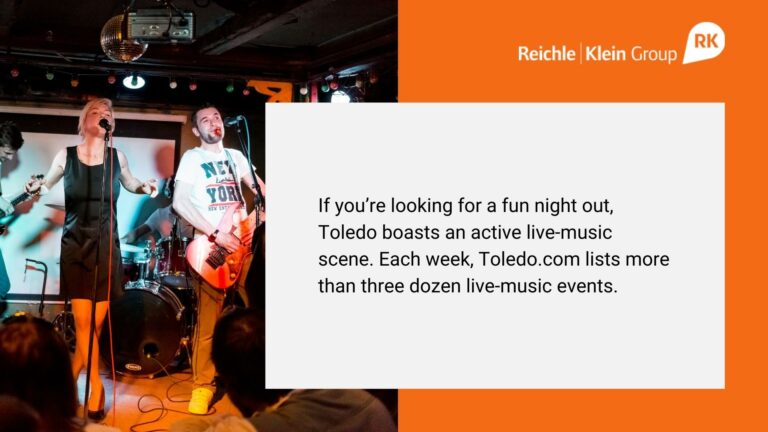 If you're looking for a fun night out, Toledo boasts an active live-music scene. Each week, Toledo.com lists more than three dozen live-music events. Events occur in restaurants and bars such as The Stubborn Brother, The Brick Bar, The Polish Ostrich, Arlyn's Good Beer, The Switchboard, and Lucille's Jazz Lounge, among many others, host local bands such as Dirty Lies, Katy's Randy Cat, Distant Cousinz, Gypsy Luvin, 2 Left Missing, Amelia Airharts, and Artic Clam. 
Of course, you'll want to check out Howard's Club H in nearby Bowling Green. Founded in 1928 as a candy shop, Howard's became a bar once Prohibition was lifted and is recognized as a welcoming place for up-and-coming local bands to get their start.
Get Outside
Toledo is an outdoors enthusiast's dream. With miles of rivers and canals to explore by kayak or canoe, nature preserves, fantastic state parks, and the botanical garden, there are adventures for every season.
Toledo's park system, collectively managed as Metroparks Toledo is a superbly organized and managed collection of wildlife preserves, water-fronts, and multiple-use areas. Today, there are 19 Metroparks, plus special use areas, regional trails connecting the parks, a water trail, and two new parks in development. Metroparks Toledo promotes conservation and restoration, encourages active lifestyles, and nurtures lifelong learning and an appreciation for natural resources.
One such park, Providence Metropark, is like stepping back to 1876. Their Canal Experience offers one-hour boat rides and a glimpse into what life was like in the historic canal town of Providence. Providence is now a ghost town on the north side of the Maumee River. Some highlights include a working saw and gristmill, costumed volunteers, a scenic dam at the Maumee River, a reproduction of a canal boat drawn by mules, and a working limestone lock from the late 1800s. 
The largest of the Metroparks, at 5,000 acres, is Oaks Opening Preserve. With camping, a public treehouse village, and natural habitats ranging from oak savanna to wetlands to vegetated sand, Oaks Opening is a birder's paradise. There are more than 70 miles of trail in the preserve, including a network of horse trails that attract riders from around the state, a dedicated cross-country ski trail, and a popular singletrack mountain biking trail.
The most visited of the Metroparks is Wildwood Preserve. This nature reserve and historic estate is located in nearby Sylvania Township. This wonderful park has trails that go through meadow, forest, and marsh land. Additionally, the old horse stables hold park offices, bathrooms, and areas for wildlife viewing. After a picnic in one of the many picnic areas, one can take a guided tour of the old Stranahan Mansion and take in its splendid gardens.
The 1,336-acre Maumee Bay State Park is another special place for family activities. Consisting of wooded areas, meadows, marshes, and two sandy beaches, it is perfect for swimming and relaxing. It has four hiking trails, an 18-hole golf course, a nature center, and a boardwalk trail for learning about the history of the park and taking in its scenic splendor.
Nearly 375 million years ago, Toledo Ohio was under a huge inland sea. Teeming with life, the critters and creatures that lived in it left behind a rich fossilized deposit of over 200 species of prehistoric life. Kids especially love going to what is now Fossil Park, a 5-acre, ADA accessible rock quarry, because they can uncover and keep any fossils they find.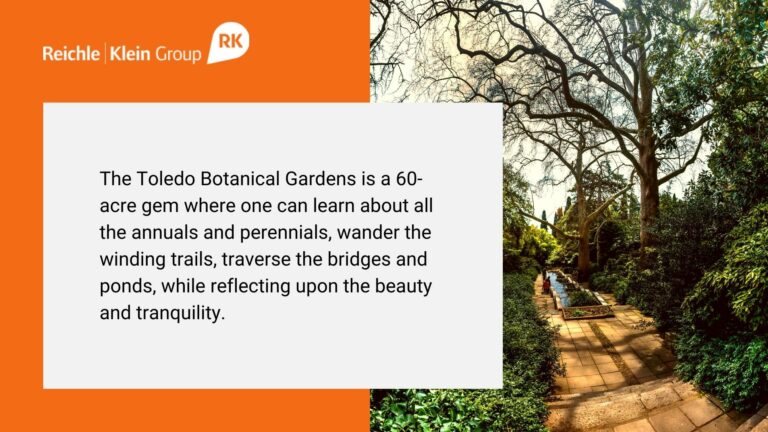 With 120,000 yearly visitors, the Toledo Botanical Gardens bills itself as a living museum dedicated to plants. At this 60-acre gem, one can learn about all the annuals and perennials, wander the winding trails, traverse the bridges and ponds, while reflecting upon the beauty and tranquility. As another Metropark, it is free to enter and during the nice weather, strolling among the sculptures of Artisan Village scattered throughout the garden is a must. The Toledo Botanical Garden also hosts the Crosby Festival of the Arts, weddings, a summer concert series, and has great activities for kids.
With twenty-four places to rent horses; fifteen places to rent kayaks; thirty places to rent rowboats; countless bicycle shops; numerous fishing, sightseeing, and sportsman guides; and forty-four area golf courses, Toledo is obviously an ideal spot for those who love the outdoors!
Get Outside
In our next blog, we'll delve deeper into some of the other major things to do and see in Toledo, such as:
The Toledo Zoo and Aquarium (USA Today's best zoo in the country, 2014)

The Toledo Speedway (HQ of The Automobile Racing Club of America)

Fifth Third Field (now Day Air) baseball stadium, named the top ballpark in Minor League Baseball by Newsweek.

The Glass City Rollers women's roller derby team 

The Museum of the Great Lakes

The SANNA Glass Pavillion

The Museum of Art

Imagination Station
Rebounding
Toledo, Ohio's grit and tenacity has helped it weather rough seas through economic downturns and recessions, including more recent challenges. A skilled and educated workforce, sound infrastructure, reasonable living costs, inexpensive natural gas, and dedicated civic leadership are driving the renaissance mentioned earlier. 
Toledo is attracting new manufacturing and process-industry businesses while setting its sights on the high-tech and green-energy sectors. This city is making a name and place for itself in the current economy, and looking forward to stay competitive in the coming decades.
For example, ClevelandCliffs has recently completed a $700 million low-carbon iron feedstock plant. The opening of this natural-gas-fired plant is in response to an industry focus on decarbonization, the increasing scarcity of domestic prime scrap iron, and the growing use of less efficient electric-arc furnaces in the U.S. 
Besides the numerous jobs generated directly by the plant, countless ancillary jobs will be created via shipping and receiving raw materials and final products as more than one hundred additional vessels will call on the Port of Toledo each year. Data released by the Associated General Contractors of America said the project helped earn Toledo the title of the fifth fastest-growing construction jobs market in the United States.
Another example is ProMedica, a mission-based, not-for-profit health, and well-being organization, who recently completed a $75 million renovation on their Toledo headquarters. It has launched a high-tech industries Innovation Center in Toledo. To do so, it is partnering with Bitwise Industries, a Fresno, California-based tech apprenticeship engine. The Innovation Center will focus on accelerating partnerships, supporting workforce development, and facilitating technology innovation. Racial, ethnic, socio-economic, and gender diversity will be at the core of the Innovation Center's mission. It is expected to generate hundreds of jobs over time by expanding partnerships that open up job opportunities for the technology workforce it will train.
As the pandemic begins to loosen its grip and the Great Recession continues to fade in the rear-view mirror, commercial real-estate is rebounding. Many commercial properties are conducting renovations and updates. The Tower on the Maumee spent $40 million; the Berdan Building, $35 Million; and Hensville, Toledo's entertainment district, $20 million. 
Even Toledo's Main Library spent $12 million on new technology, such as digital recording equipment and 3D printers, while upgrading its striking architectural and beloved art deco style to include a new Community Room, Work Space, and thirteen meeting rooms. The library is now an innovative place for professional development and learning.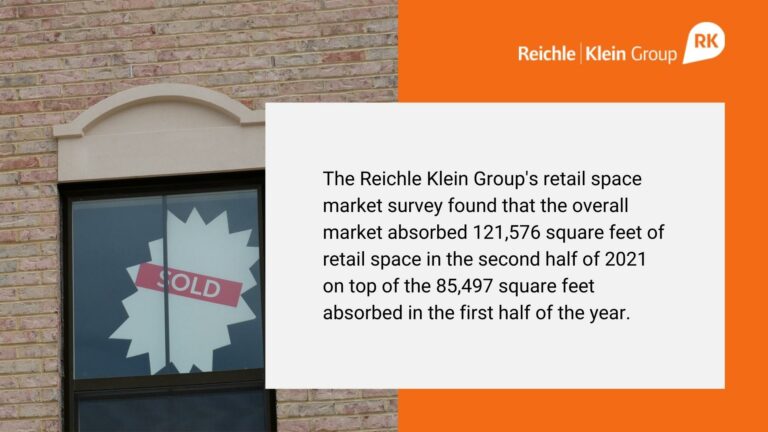 The Reichle Klein Group verifies this positive trend with its most recent retail space market survey. They have found that overall market vacancy has decreased by a full percentage point. 
The overall market absorbed 121,576 square feet of retail space in the second half of 2021 on top of the 85,497 square feet absorbed in the first half of the year. Occupancy and asking-rent increases were made both among in-line spaces and anchor spaces. And its not just existing space that is in demand.
The amount of new space under construction is at its highest level in the past five years with over 140,000 square feet of commercial space being added in 2021. The Reichle Klein Group will be happy to help retailers, businesses, and investors find the perfect spot to fulfill one's needs.
Over the same period, the overall residential vacancy rate has declined by 3.3%. In December of 2019, it stood at 6% but by the end of 2021, it had decreased to only 2.7%. Based solely on increased occupancy and higher rental rates, the average apartment property in the Toledo area has appreciated over 26% in the past two years. 
That's great news for those wishing to find investment properties. The Reichle Klein Group can help you locate properties that are ripe for further appreciation in up-and-coming neighborhoods for business locations or for investment.
A Leader in Commercial Real Estate in Toledo, Ohio
The Reiche Klein Group lives and works in the Toledo area, and knows that problems and opportunities are best viewed close up. With intimate local knowledge, they apply their experience, creativity, and sophisticated toolbox to find the perfect solution for your challenges. Reiche Klein is known for customer satisfaction and long-term client relationships.
This is how the Reichle Klein Group became the leading commercial real estate services company in the Northwest Ohio and Southeast Michigan region. Licensed in Ohio and Michigan, they offer an array of capabilities ranging from commercial and industrial property brokerage to property management and facility maintenance services. They pride themselves on making your success their responsibility. 
They are always ready to talk about your unique needs and aspirations. The Reichle Klein Group is located at One SeaGate, 26th Floor, Toledo, Ohio 43604. Their phone number is (419) 861-1100. You can find them on Facebook, LinkedIn, or you can submit an inquiry on their contact page for information on a specific property or their general services.
If you like this blog, please feel free to share it on your social media!