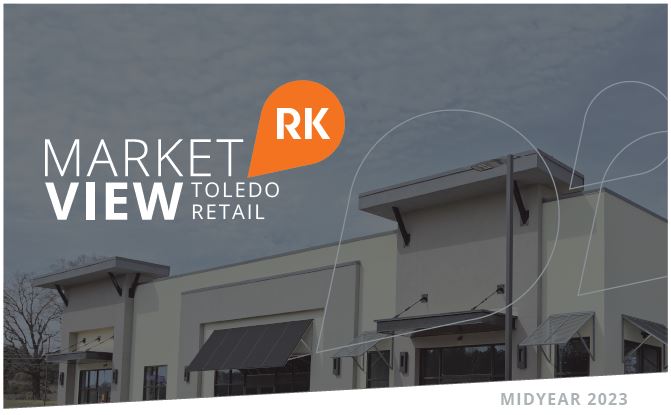 Reichle Klein Group's 2023 Midyear Retail Overview
The first half of 2023 was a period of steady, solid performance for the Toledo, Ohio retail space market despite headwinds in the form of higher interest rates and increasing construction costs. Both issues are impeding deal flow and development projects and having some impact on in-line leasing which has been slow and uneven.
In spite of the impediments, the mid-year survey of the market conducted by Reichle Klein Group found the vacancy rate for the overall market up only slightly from 8.4% at year end 2022 to 8.6% at June of 2023. There was a very modest 3,654 square feet of positive net absorption. The overall market average asking rental rate increased 6% over the first half of 2023 to stand at $10.39 at mid-year on strength in both anchor and in-line rent growth.
Demand for out-lots for ground-up development is not being deterred by increases in interest rates or construction costs. Car washes and restaurants such as Culver's, Red Robin, Raising Cane's, and Dairy Queen Grill & Chill are all very active in the market and for these types of sites. Many of these developments are driven by franchise agreements which push franchisees to perform on commitments to store openings and/or sales. Potential penalties for failure to meet these commitments outweigh the impact of any increased costs. Also at work is competition to lock up prime sites in the premiere corridors.
In further restaurant related activity, Noodles & Company took over two former Moe's Southwest Grill sites in West Toledo and Springfield Township which had closed in the last year.
A total of 64,740 square feet of newly constructed retail space was delivered in the first half of 2023, most of it built-to-suit and occupied at delivery. New construction has slowed such that at mid-year there is only 16,000 square feet of space under construction. Those buildings under construction are being built-to-suit and will be fully occupied at delivery.