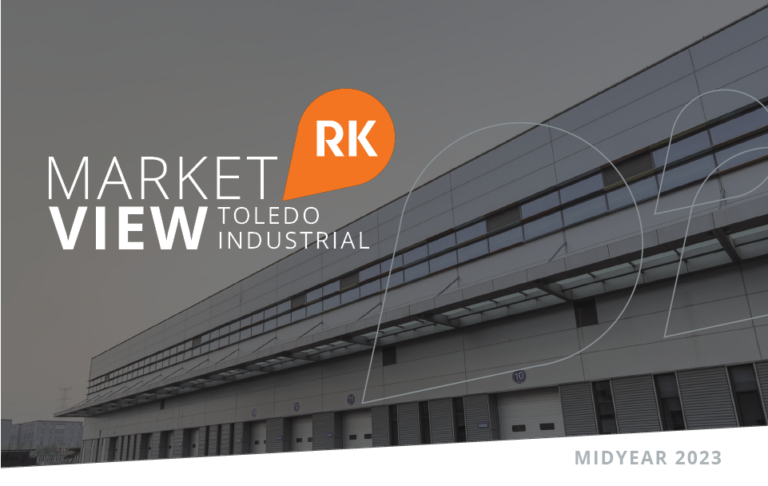 Reichle Klein Group's 2023 Midyear Industrial Overview
The Reichle Klein Group midyear 2023 survey of the Toledo, Ohio area industrial space market again finds the market performing at a historically high level. The market absorbed a total of 460,450 square feet of space in the first six months of 2023 after having absorbed 2,491,216 square feet of space in the second half of 2022. Incredibly, over the past five years the market has absorbed approximately 10,000,000 square feet of space. Meanwhile, the overall vacancy rate fell to 3.58% over the first six months of the year.
After lagging the steadily strengthening market for several years, the overall market average asking rental rate has sharply increased over the past year. In the first six months of 2023 alone, the rate increased by $1.00 per square foot, an unprecedented rate of growth for the Toledo market. The increases are driven in part by increased demand and in part due to rapidly increasing construction costs.
Newly constructed buildings, both spec construction and built-to-suit buildings, make up a larger portion of the available space and have a far greater impact on the average asking rate than they did just a few years ago. This is best reflected in the average asking rate for Class A buildings which stands at $7.35 per square foot at mid-year – the starting range at which new leases in recently delivered BTS and spec buildings are being struck.
At over 2,200,000 square feet, the amount of space under construction remains at an elevated level. All this space is being built-to-suit or is substantially pre-leased. A total of 593,000 square feet of spec space, comprised of three buildings, was delivered in the first half of 2023. Additionally, definitively proposed spec development would add over 600,000 square feet of spec space and no less than 300,000 to 400,000 square feet more spec space is in early planning stages.
Most of the new construction is occurring along the I-75 corridor from the Michigan line to northern Wood County with some west of US 23 and near Eugene F. Kranz Toledo Express Airport. Obviously, the new supply is dramatically repositioning the Toledo area industrial marketplace with a better inventory of higher functioning, larger format and more expensive space and enabling the market to capture users that previously could not find satisfactory facilities in the region.
While less dominant in the mix of users taking space in the market than has historically been the case, automotive and manufacturing users continue to take space, particularly in North Toledo. First Solar and its suppliers have been big drivers of demand in Wood County. Warehouse/Distribution/Logistics users make up an ever-larger share of the demand and Wood County and western Lucas County have had success attracting these users. Search activity by users slowed a bit in the second quarter of 2023 from the torrid pace of the past few years but remains solid.