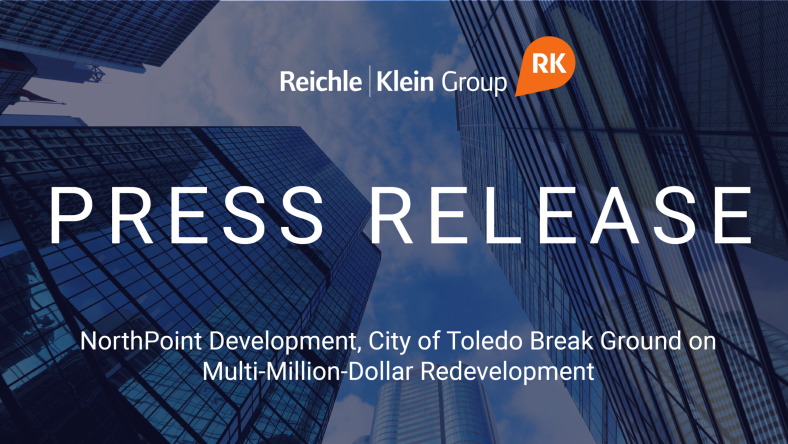 NorthPoint Development, City of Toledo Break Ground on Multi-Million-Dollar Redevelopment
The 58-acre development to create more than 500 jobs, bring $11 million in permanent wages
(Toledo, OH, September 8, 2022) NorthPoint Development, in collaboration with the City of Toledo, hosted a groundbreaking ceremony yesterday, Wednesday, September 8, to unveil the future site of Toledo Trade Center. Located on the former North Towne Mall site, Toledo Trade Center is transforming the long-abandoned brownfield site into three buildings totaling over 853,000 square feet that sprawl across nearly 58 acres. The leasing agents for the project will be The Reichle Klein Group's Jerry Malek and Gary Micsko.
NorthPoint Development estimates that the $84.6 million investment, excluding tenant improvements, into Toledo Trade Center will create over 564 direct and indirect jobs and generate more than $11.84 million in annual permanent wages for the local community.
"The City's Department of Economic Development has worked tirelessly over the past few years to reposition this important asset for redevelopment as an industrial park," Brandon Sehlhorst, Director of Economic Development, said. "As the City's largest available industrial site, North Towne represents Toledo's biggest opportunity to attract a large job creation project that has the potential to diversify our economy and provide high-paying jobs to our residents.  It takes this level of vision, partnership, and execution for Toledo to continue to be nationally ranked in the top 10 cities for economic development. We are grateful for the opportunity to partner with NorthPoint Development on this transformational project and look forward to many more exciting announcements to come."
"We're proud to be a partner with NorthPoint Development on a project that will propel the region forward in terms of economic development and repurpose a brownfield site," said Jeffrey Schaller, president of Rudolph Libbe, Inc., the general contractor for the project.
The Class A state-of-the-art facility is strategically located to have prime access to I-75 and U.S. 24, allowing for easy regional and local industrial distribution.
"Successful cities find creative ways to re-imagine themselves and re-deploy their most important assets. Just as we've done recently with the old Southwyck Mall and Textileather sites, this project will turn a long-vacant property into a hub of economic activity and innovation. Replacing blight with jobs is a true win-win for Toledo. The revitalization of this property will sustain this neighborhood and continue the City of Toledo's economic momentum," Mayor Wade Kapszukiewicz said.
NorthPoint Development has invested over $882 million into the state of Ohio through the development of various mixed-use industrial parks totaling over 14.2 million square feet.
"We are proud to be redeveloping the former North Towne Mall," said Marc Werner, Regional Vice President at NorthPoint Development. "The redevelopment of one of the largest brownfield sites in the city wouldn't have been possible without the public-private partnership with the City of Toledo and the State of Ohio. This $84.6 million investment works to redevelop the former site for long-term sustainability by regenerating taxes back into the local community and creating jobs."
Speakers at the event included Mayor Wade Kapszukiewicz, City of Toledo; Theresa Morris, City Council, City of Toledo; Lydia Mihalik, Director, Ohio Department of Development; Thomas Winston, President, and CEO, Toledo-Lucas County Port Authority; and Marc Werner, Regional Vice President at NorthPoint Development.
About NorthPoint Development
Since 2012, NorthPoint Development has raised more than $13 billion in capital, developed and managed more than 148.2 million square feet of industrial space, created more than 78,000 jobs, and supported more than 557 industrial clients across the United States. NorthPoint Development started out as a privately held commercial real estate developer specializing in industrial and multi-family development. Since then, NorthPoint has grown to a family of twelve companies with an emphasis on a factory-to-front-door model. "Beyond the Contract" embodies the concept that no contract can be written to reflect everything that will occur in a complex real estate transaction. Our approach in all business relationships is to be fair and to operate by the "Golden Rule."
Visit beyondthecontract.com or follow @NorthPointDev to learn more.