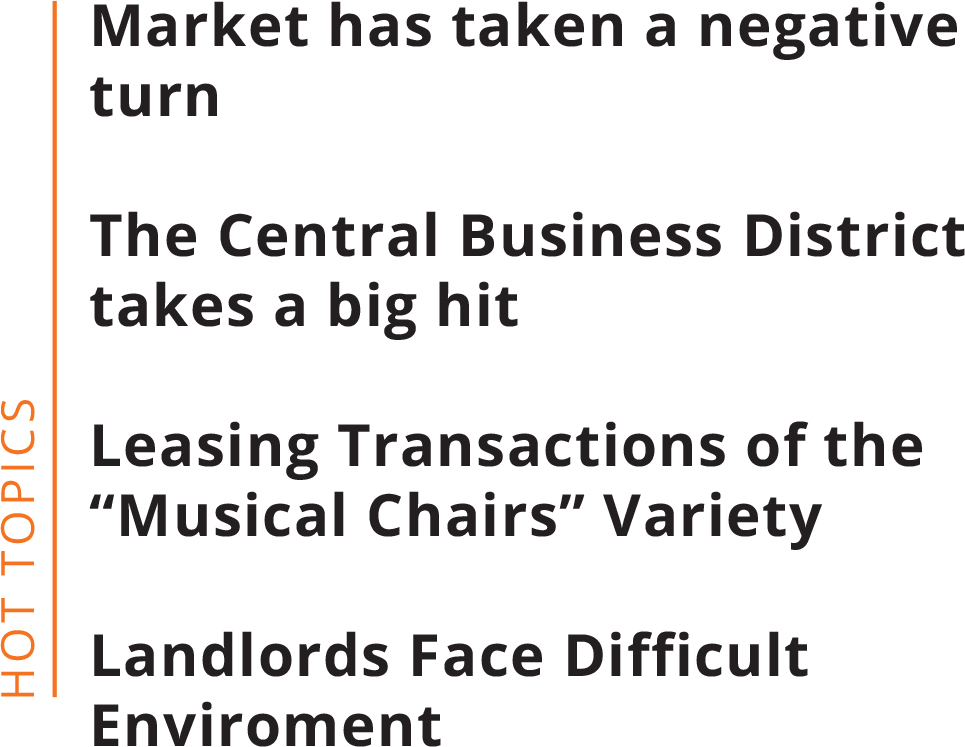 OVERVIEW
The Toledo, Ohio retail space market performed very well in 2022 according to the Reichle Klein Group year end survey. Steady is the word to describe the market. Steady user interest, steady deal flow and steady im- provement among all the key metrics.
Over the last several years we have been reporting how the Toledo retail space market has been healing itself from significant oversupply and obsolescence of space through redevelopment and repurposing of retail sites. As this process was unfolding the total square footage in the inventory steadily shrank. The accompanying declines in the overall market vacan- cy rate were largely driven by the volume of margin- al space going away rather than new tenants filling space. As evidenced by the demolition of the former Sear's store at Westgate occurring as this report is

Central Business District in the Class A segment, rising from 21% at mid-year to 27.9 % at yearend 2022. This is the result of an additional 179,536 square feet of space becoming vacant in the second half. A large portion of this newly vacant space is due to Fifth Third Bank drastically reducing the size of their regional headquarters in One Seagate.  In total, 725,262 square feet of Class A space stood vacant in the CBD at year end 2022.  By comparison, in the similarly sized Class A segment of the South/ Southwest submarket there was a total of 365,096 square feet vacant (16.1%) at year end. Lease transactions were closing throughout the second half of 2022, primarily in the suburban submarkets.  However, most of the transactions were of the musical chairs variety entailing users moving from building to building within the market seeking to improve or right size their spaces. The negative net absorption numbers make clear that tenants shrinking space far outweighed those taking more space. Our ongoing work on behalf of tenants that we represent and the buildings for which we act as leasing agents leads us to believe that these trends will continue into 2023. While the average asking rate for the overall market increased in the second half of 2022, concessions to tenants in the form of free or reduced rental rates feature prominently in transactions that close.  High construction costs for tenant improvements are an impediment to both landlords and tenants and present a challenge to both sides in structuring deals that make sense financially.  Between slow to falling demand, rent pressures, high TI costs, increasing operating costs, and fierce competition with one another for tenants, Landlords face a very difficult environment. In our Toledo office market reports throughout 2021 and the first half of 2022 we have commented about the high level of smaller office building sales to, primarily, user buyers.  The pace of these sales tailed off in the second half of 2022, though it did not stop completely.  Demand to purchase such buildings has slowed, but the number of available buildings for sale has fallen dramatically as well.

Interested in learning more?