Market View | Toledo Apartment – Vacancies
Hot Topics
Apartment-rental market performing at an exceptionally high level

Downtown and UT area student housing markets bounce back

Rents are growing at historically high rates

Apartment sales up 400% over the prior year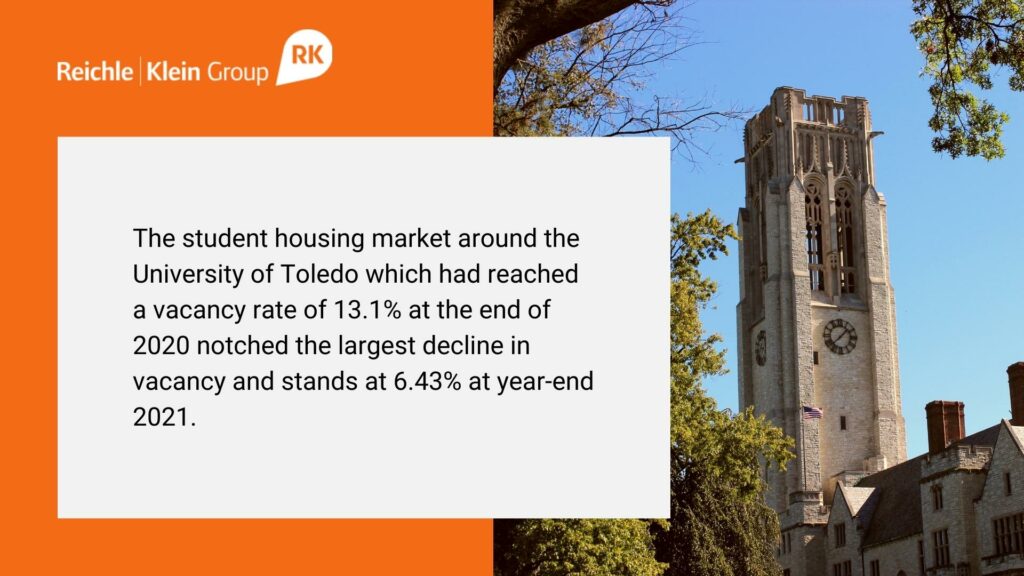 Interested in learning more?
Overview
Most of the suburban submarkets that are primarily or exclusively located within the City of Toledo recorded slight increases in vacancy while all other submarkets saw further declines in vacancy. The student housing market around the University of Toledo which had reached a vacancy rate of 13.1% at the end of 2020 notched the largest decline in vacancy and stands at 6.43% at year-end 2021. The second-best vacancy recovery over the course of 2021 was the Central Business District where vacancy had ballooned to 11.2% at the end of 2020, the result of new units being delivered in that submarket in the second half of 2020. At year-end 2021, the CBD vacancy rate is 2.55%.

Interested in learning more?