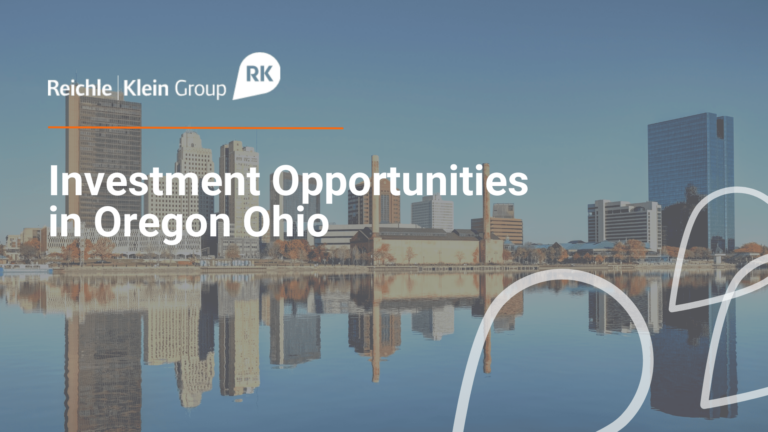 Oregon Ohio, part of the Toledo metropolitan area, is a medium-sized town located on Lake Erie in Lucas County, Ohio. It is a lakefront residential, industrial, and agricultural suburb known for a scenic lakefront, bike trails, refineries, power plants, and Maumee Bay State Park. The town is growing and the local government is open to new business. With about 20,000 residents, Oregon, OH is a perfect investment opportunity. 
With a bustling economy and a developing Town Center area, the residents of Oregon enjoy a semi-urban atmosphere with plenty of offerings including excellent shopping, dining, and entertainment options in an open-air mixed-use setting. The city of Oregon is a dynamic region that is well-positioned for investment, growth, and development. It offers businesses and investors a strategic location, talented workforce, high value for costs and excellent education options. With all these amenities and miles of Lake Erie shoreline, the city is an excellent location for investors to purchase commercial property. In fact, their town slogan is "Opportunity on the Bay."
One of Oregon's many benefits is its proximity to Toledo. Located just five miles from downtown Toledo, the city of Oregon offers a balance of unique lakefront living, recreational opportunities, and excellent city services for residents. Beautiful residential homes in safe neighborhoods are located near cycling paths and leisure trails that provide quick access to Maumee Bay State Park as well as Pearson Metropark. Also, low tax and utility rates help businesses to thrive, build, and grow in Oregon, Ohio.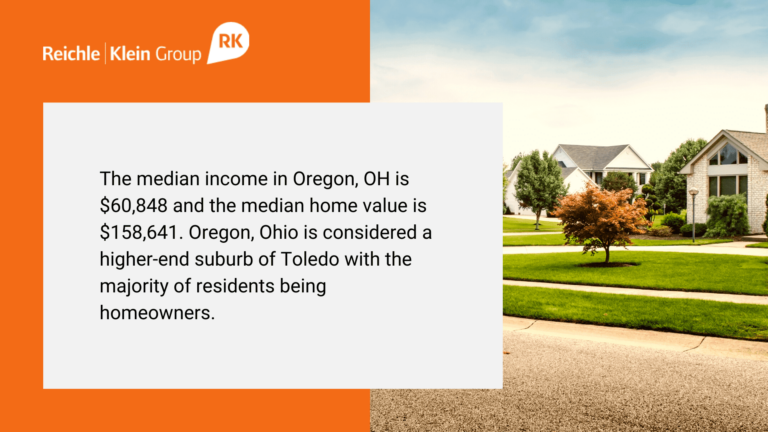 Oregon Ohio has a Strong Median Income
The median income in Oregon, OH is $60,848 and the median home value is $158,641. Oregon, Ohio is considered a higher-end suburb of Toledo with the majority of residents being homeowners. Compared to the rest of the country, Oregon's cost of living is 19.3% lower than the U.S. average. With a livability score of 81, the city of Oregon is a fast-growing area and residents have plenty of disposable income.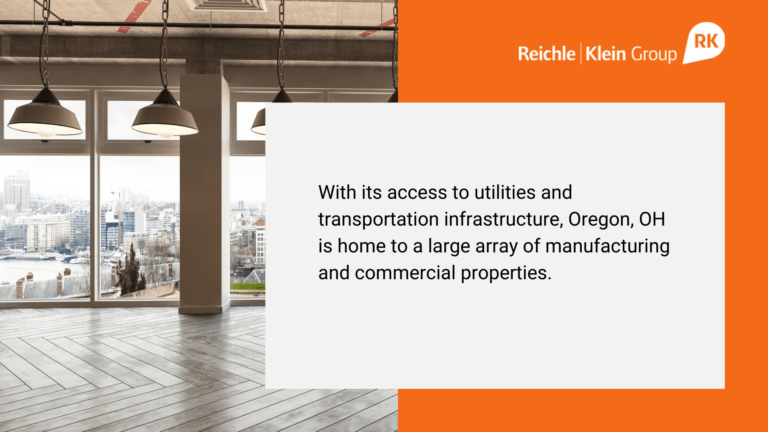 Commercial real estate is more than just retail properties. It can be any property from which a business is run including retail, offices, industrial properties, education facilities, aged care properties, and multifamily properties. With its access to utilities and transportation infrastructure, Oregon, OH is home to a large array of manufacturing and commercial properties. However, it still has a small-town feel. In fact, it is home to the Sundance Drive-in, the oldest drive-in movie theater in Ohio and one of the last of its kind in the US.  Get in touch with a team member of Reichle Klein Group, a commercial property brokerage, for more information on current and upcoming listings that may suit your investment goals. 
The schools in Oregon are exceptionally high ranking, with Clay High School ranked very high for college preparation. Top elementary schools include Coy Elementary School and Starr Elementary School. The highest rated middle school is Fassett Junior High School, followed by Eisenhower Intermediate School. Besides Clay High School, Oregon offers the Eagle Learning Center and the private Kateri Catholic School. All of Oregon's schools have a low student to teacher ratio, meaning that residents' kids get lots of attention! Education draws residents, visitors, and business to Oregon, contributing to it being a highly desirable region for investors in commercial real estate.
Maumee Bay State Park is a 1,336-acre public recreation area located on the shores of Lake Erie. Major features of the state park include a lodge and conference center, cottages, camping facilities, golf course, nature center, and two-mile-long interpretive boardwalk. Locals enjoy the park for hiking, picnicking, fishing, hunting, boating, swimming, and winter sports. With many shops in the area from which to rent a bike, kayak, or jet ski, it's easy to get out there and have fun.
Beginning or ending in Oregon, depending on which direction you're heading, is the Maumee River Water Trail. This "trail" stretches 107 miles from Lake Erie's Maumee Bay to the Ohio-Indiana border. Taking a look at the water trail map, one sees that it connects five Toledo area Metroparks (Bend View, Farnsworth, Middlegrounds, Providence, and Side Cut), three state parks (Independence Dam, Mary Jane Thurston, and Maumee Bay), three wildlife areas (Meyerholtz, North Turkeyfoot, and Van Tassel), as well as 15 other publicly owned parks. In total, the trail can be accessed at 39 locations with a variety of activities and amenities found at each location.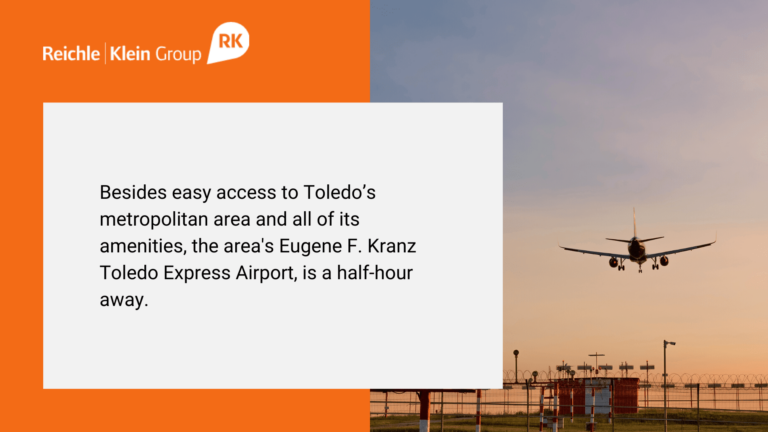 Most of the city's quiet neighborhoods are easily accessed by Navarre Ave, the city's bustling commercial artery. It provides easy access to The Oregon Town Center and Interstate I-280 for easy access to Toledo, I-75, and Detroit and Cleveland. Detroit is just over an hour away, so Oregon residents can access its employment, education, healthcare, and travel opportunities. Cleveland is just a little further, approximately 110 miles to the east. 
Besides easy access to Toledo's metropolitan area and all of its amenities, the area's Eugene F. Kranz Toledo Express Airport, is a half-hour away. Close enough for comfort, but far enough for quiet. It provides quick and easy connections to O'Hare International Airport and therefore the rest of the world. This also provides an excellent option for local freight. 
The transportation and larger city access are huge contributors to the Oregon local economy, therefore impacting commercial real estate returns. Because of the ongoing revival of these cities, we expect to see Oregon experience even stronger growth in the coming years.
Commercial Real Estate Appreciation
Is it a good time to invest in commercial real estate? A researcher for Business Standard thinks so. The aptly titled Good Time to Invest in Commercial Realty points out that as firms bring employees back to the office, leasing of space is likely to rise because of decreasing COVID-related uncertainties. Many companies let go of leased space during the pandemic so the time is ripe to snatch up available space.
Consequently, the Toledo, Ohio area's industrial-space market is red hot. One would have thought that it could never get much better than reported at the end of 2020 or at mid-year 2021, but it has. With the rise of rents and quickly declining Cap rates, property values have been quickly appreciating. For landlords, the market just keeps getting better and better with rising rents in both multifamily and commercial property. Vacancy rates in Oregon, and the Toledo area in general, continues to decline as demand grows. In fact, the Toledo area in general absorbed over 800,000 square feet of space in the second half of 2021.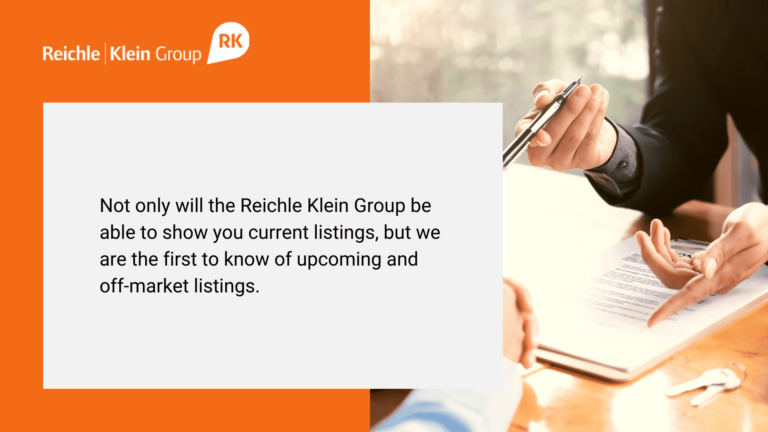 Investing in Commercial Real Estate in Oregon Ohio
Because competition for these properties is likely to continue increasing, driving prices higher, it's become even more imperative to work with a highly experienced commercial property broker like Reichle Klein Group. Not only will we be able to show you current listings, but we are the first to know of upcoming and off-market listings. Even though the city of Oregon may appear small when compared to the larger metro area, it is a secondary market that has much to offer commercial real estate investors. The area is well-positioned for strong growth in the coming years and commercial real estate assets will surely benefit. 

Reach out to a member of our team for more information on commercial real estate investing in Oregon and the Toledo area. This is not a market you want to miss out on!