Demand for Commercial Real Estate Continues to Increase
The strong performance of the Toledo, Ohio area retail space market continues apace midway through 2022. Despite the lingering pandemic, The Reichle Klein Group's 2022 mid-year survey found that the region is continuing its solid performance and is steadily strengthening. In just six short months, overall market vacancy fell a full percentage point from 10.5% at the end of 2021 to 9.5% today. This whopping drop translates into 223,115 square feet absorbed so far in 2022. 
The question of whether or not consumers are going to return to brick-and-mortar stores has been answered. They most definitely are! According to payment data released by Mastercard, in-store sales have grown at a rate of 13.4% compared with last year, while online retail sales increased only 2.2%.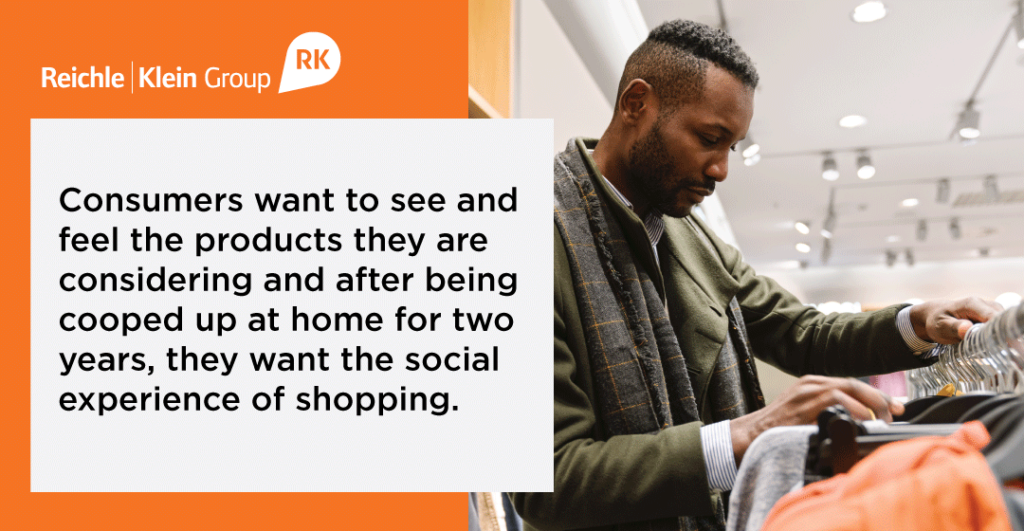 Consumers have apparently gotten tired of ordering everything while sitting on the couch and have returned to shopping the old-fashioned way. They want to see and feel the products they are considering and after being cooped up at home for two years, they want the social experience of shopping. Online sales of big-ticket discretionary items, like electronics and furniture, have decreased significantly. Inflation is largely to blame for this, however, a contributing factor is that consumers also want to save the delivery fees.
As the Covid era begins to fade into the background, the overall market average rental rate has remained essentially flat from year end. However, for the reasons just mentioned, user activity in the market is generally strong, particularly among anchor scale tenants. In-line leasing is slow however, particularly with "national" tenants. In spite of this, the pace of new construction in the second half of 2022 is strong. One trend to take note of is the small infill site. Rather than building one larger strip, two smaller buildings are built. This better accommodates multiple drive-throughs and creates more high-value endcap spaces. 
A factor in the market's improving metrics is the ongoing redevelopment of marginal centers/locations or physically obsolete spaces in strong locations. As a result, the total square footage devoted to "retail" continues to shrink. However, America's workers are beginning to return to the office which is driving an uptick in demand for office space rentals. Enter the repurposed, multi-use, large-format center. This trend takes outdated structures, such as malls, and renovates them to host an anchor or two combined with smaller in-line spaces, restaurants, entertainment venues, and, yes, office space.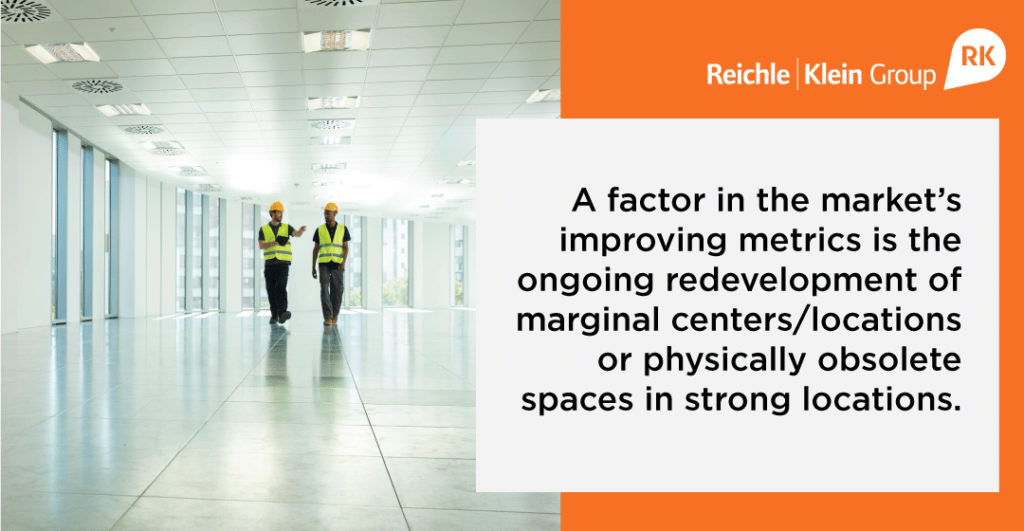 It's worth noting that there is strong demand for retail investment property. Centers or single tenant net leased properties taken to market are receiving a high level of interest from qualified buyers and trading cap rates are reaching new lows. As vacancy rates among in-line spaces and anchor spaces continue to decrease, rental rates are sure to increase. 
During times of rising inflation, savvy investors may seek to hedge against it by investing in commercial real estate. Commercial property values are typically based on operating income and market capitalization rates. In general, when inflation occurs, rents rise. This rise leads to an increase in operating income, which subsequently results in an increase in property values. 
As people return to shopping at brick-and-mortar stores and physical office spaces, demand for commercial real estate is only going to increase. 
The Reichle Klein Group is always ready to talk about your unique needs and aspirations. They are located at One SeaGate, 26th Floor, Toledo, Ohio 43604. Their phone number is (419) 861-1100. You can find them on Facebook, LinkedIn, or you can submit an inquiry on their contact page for information on a specific property or their general services.
If you like this blog, please feel free to share it on your social media!
Interested in learning more?