Toledo's Tenacious Retail Space
Another factor in the retail space market's solid performance is its remarkable ability to rebalance, renew, and repurpose buildings and sites. A less visible element of this is that the total amount of space in the "retail" segment continues to shrink, primarily large format or anchor space. An additional 229,000 square feet of physically obsolescent or non-competitive space was taken out of the inventory that we track in the first half of 2022. 
The lion's share of this reduction is attributable to the former Elder-Beerman store at West-gate which, along with the former Sears building, is slated for demolition as part of the redevelopment of the combined sites. The developer's current plan calls for retail uses for the site, but without a doubt, the building's size, shape, and format will be competitive in today's retailing environment. In-fill development/redevelopment is the only type of development occurring in the Toledo market as retail "sprawl" has ceased for now. The market seems to have established a stable, natural boundary for retail development. Within that boundary, retail users, landlords and developers are feverishly and creatively working to optimize their spaces and sites.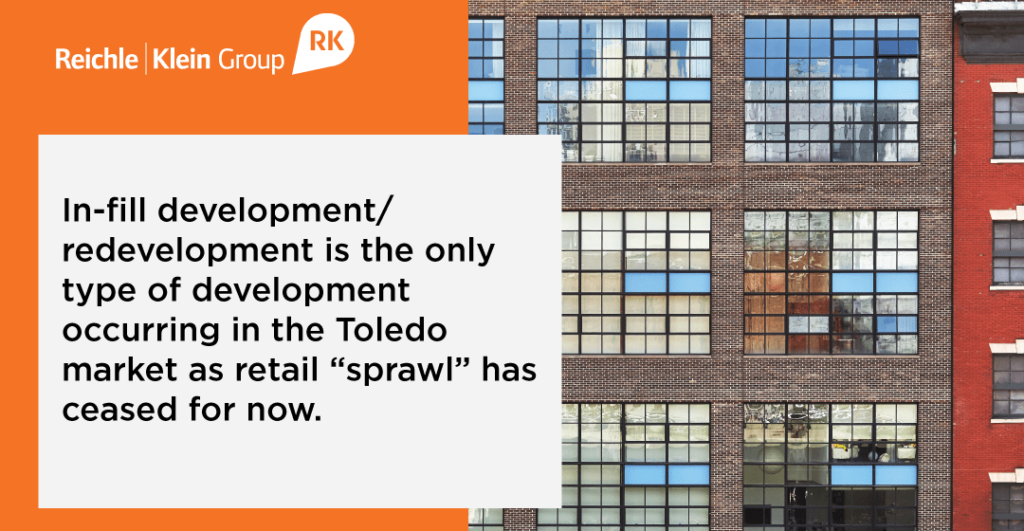 The Reichle Klein Group is always ready to talk about your unique needs and aspirations. They are located at One SeaGate, 26th Floor, Toledo, Ohio 43604. Their phone number is (419) 861-1100. You can find them on Facebook, LinkedIn, or you can submit an inquiry on their contact page for information on a specific property or their general services.
If you like this blog, please feel free to share it on your social media!
Interested in learning more?