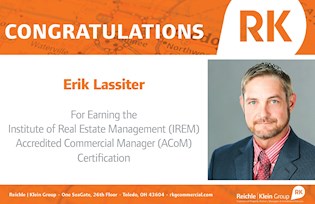 New Release Contact
Reichle Klein Group's Lassiter Awarded New ACoM Certification
TOLEDO, OHIO (JANUARY 12, 2021) – Reichle Klein Group is pleased to announce Erik Lassiter has earned the Institute of Real Estate Management (IREM) certification of Accredited Commercial Manager (ACoM).
Lassiter, a property manager with Reichle Klein Group since 2015, is responsible for the management of a broad mix of office, retail and residential properties.
According to IREM, an ACoM professional certification is awarded to those who meet the standards set by IREM for commercial real estate management professionals, such as ethical business practices, maximizing the value of investment real estate, and promoting superior management through education and information sharing.