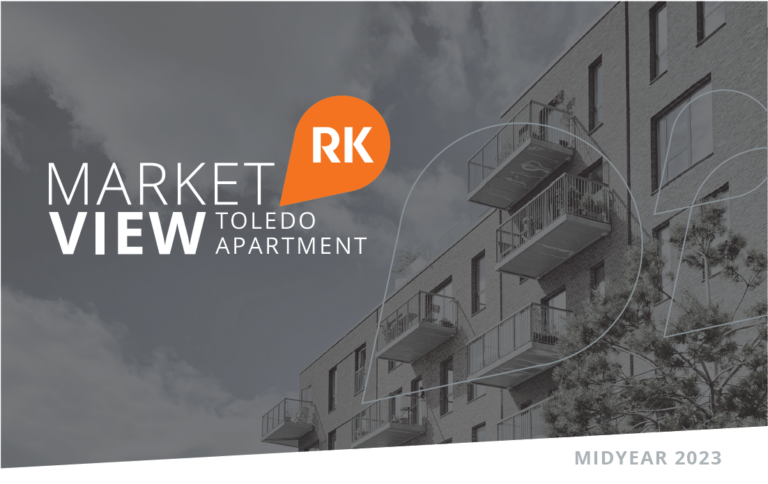 Reichle Klein Group's 2023 Midyear Apartment Overview
Our second quarter 2023 survey of the Toledo, Ohio apartment market found slightly higher overall market vacancy than at year end, 2022. The vacancy rate increased to 4.6% at June 2023 from 4.5% at the end of 2022 extending a string of increasing vacancy going back to the end of 2021 when the market reached its most recent low point. The Central Business District at 5.7% vacant and the Holland/Maumee submarket at 7.4%, underperformed the market average. Meanwhile, all the other suburban submarkets performed better than the overall average, some by wide margins. Perrysburg in particular continues to perform at a high level, maintaining low vacancies while absorbing the lion's share of new construction in the market.
The overall market average asking rental rate increased over the first six months of 2023 to $953 per unit from $944 at year end 2022. While generally continuing to increase, the rate at which rents are increasing has slowed materially from the pace during the recent pandemic. There is a lot of noise in the data, but generally, the suburban submarkets registered rent increases while the rents in the Central Business District and North Toledo were declining or flat. Also generally, one-bedroom rents grew while rents in two- and three-bedroom units were flat to slightly declining.
The number of units under construction was up modestly from year end 2022. At the end of June 2023, 524 units were being tracked as under construction. Three of the properties that we are tracking are suburban communities being built in Perrysburg and Waterville. All are being built in stages and some units have been delivered and begun leasing while new buildings have broken ground. It is our practice to track these buildings as under construction until the current phase of the project is fully completed. Additional projects sufficient to maintain the current rate of new construction have been proposed and are in the planning stages. To be seen is whether the increasing interest rate environment will slow or stop these projects from becoming a reality.